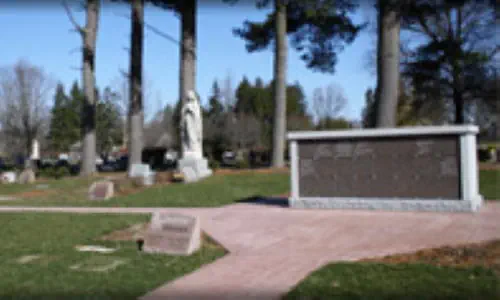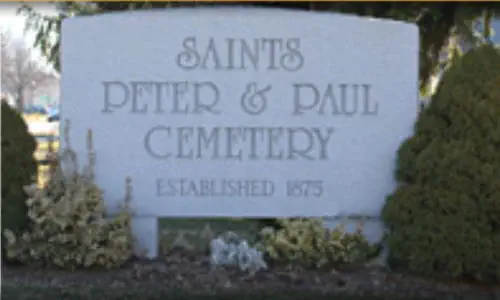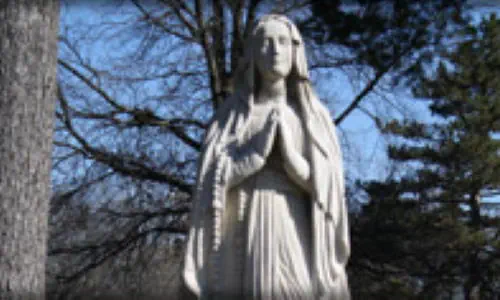 Before 1875, deceased parishioners were buried around the church itself in the custom of the old country (Germany). In 1875, Rev. Vincenz Scheffels purchased four acres of land off East Main Street for the sum of $600 and the present cemetery was established. In 1929, the cemetery needed to be enlarged and Msgr. Anthony Veit purchased an additional eight acres from Matt Alf in 1929. Msgr. Gerard Green made great improvements to the cemetery in 1991-92, installing drainage and widening the entrance. The large stone cemetery sign was erected at the entrance in 1993 and the old Moss Road was renamed Veit Road in memory of our longest-serving pastor.
Our cemetery has many old gravestones marking the gravesites of early Hamburg residents. It is the final resting place for several beloved priests, including Rev. Scheffels, Rev. Bornefeld, Msgr. Veit, and Msgr. Anton LaRusch.
Two antique limestone statues of St. Peter and the Blessed Virgin Mary stand in our cemetery. These statues originally stood in niches on the front of Our Lady of Lourdes Church in Buffalo until Msgr. Green brought them to Hamburg. The statue of the Blessed Virgin stands in a wooded area by the new marble cremains receptacle.